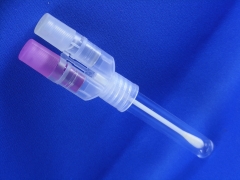 Microorganism Test ST is a rapid and all-in-one system for food pathogens that provides you with next-day results for key food pathogens.
Each self-contained device contains selective media for the target pathogen with easily readable test results available in 24 hours or less.
Microorganism Test ST tests are available for: E. coli & Coliform, S. aureus, Salmonella spp.
Description
Rapid, Easy and Controlled Testing for Environmental Pathogens.
Test Microorganism (product code)
E. coli & Coliform (61940)
S. aureus (61941)
Salmonella Spp. (61942)
Quantity 100
100 test/kit
Measurement Time
< 24hrs
Data Output
Color change
Storage
2-15 ℃ in a refrigerator
Expiry
18 months after manufacturing date
Precaution
Incubator block and UV light source are not included.
Please refer to the instruction manual for full procedures.
These products have not been tested with all possible food products, food processes, test protocols or strains.